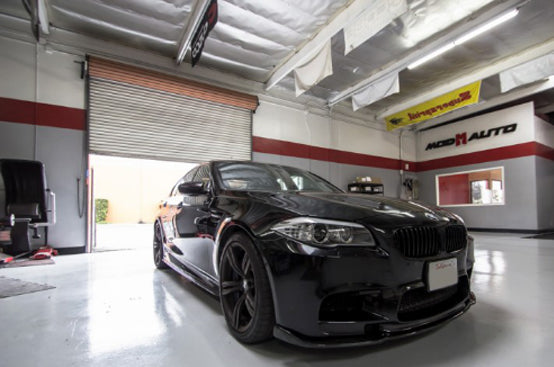 Whether you have a bone stock F10 M5, there are a few basic modifications that will make your F10 BMW M5 look better and perform at its best. At the core of it, what we all want is for our cars to look awesome, right? Even your mighty M5 can be improved upon and tailored to reflect your style and taste, whether that's aggressive and in your face, or subtle and refined. Whatever your style, your 5-series is an expression of yourself, so make it your own.
This post is for all you 5-series guys who aren't sure what your options are for modding your F10 BMW M5 – the 4 Best Mods for the F10 BMW M5. We've done our best to spell it out in terms that layman and veteran enthusiasts will understand.
So let's start with the number one mod for an M5.
#1. DITCH THE STOCK WHEELS.
Do you know how many standard 5-series are running around on used M5 wheels? Why look like one of those plebes when you can stand out with an awesome set of wheels. After all, if you can afford an F10 M5, you can certainly afford to put it on a set of wheels of the same caliber.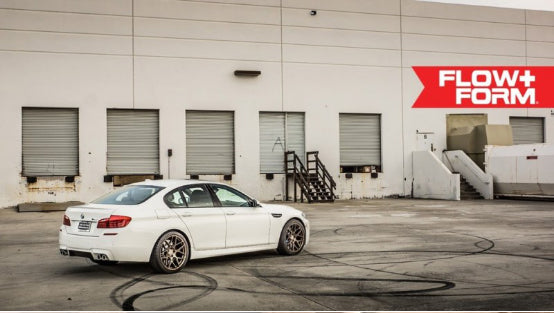 A set of HRE FF01 Flow Form Wheels for BMW F10 M5 is an ideal way to stand out from the crowd, and you have the prestige of HRE wheels to consider as well. These flow form wheels are lightweight, strong, beautifully finished in a variety of colors – and more affordable than you'd think. Check out how they look on this F10 M5.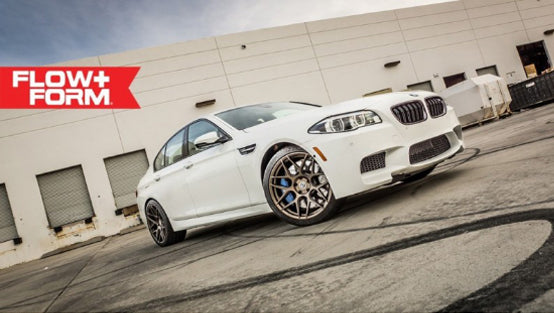 So after you install a great looking set of wheels, you've still got the problem of stock ride height.
#2 Drop Your F10 BMW M5 Suspension To Eliminate The Ugly Wheelgap & Handle Even Better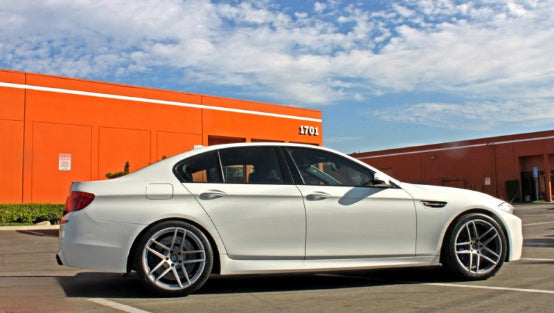 After you fit a car with a great looking set of wheels, the ride height is the next thing you should consider. For simplicity, a favorite for lowering any car conservatively is a set of Eibach Pro-Kit Lowering Springs for F10 BMW M5, or a set of H&R Sport Springs for F10 BMW M5 if you just want to do springs and get a sportier ride. But what if you want control over how low your M5 is, and don't want to lose your electronic suspension functions? Check out a set of Height Adjustable Springs from KW that convert your OEM electronic shocks into a sleeve-over style coilover setup.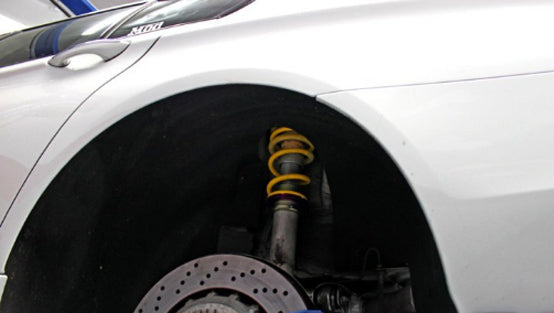 Of course, if you want to get lower and don't mind losing the electronic suspension, a set of CKS Suspension Coilovers for F10 BMW M5 are a solid choice, as are KW V3 Coilovers for F10 M5.
There's a variety of suspension options available and the best one for you is going to depend on how you plan to drive the car and the ride quality you want – so if you're not sure what way to go, we invite you to talk to our Mod Experts about modding your F10 BMW M5 Suspension.
#3 BE SEEN AND HEARD WITH AN UPGRADED EXHAUST, INTAKE & ECU
The F10 BMW M5 Exhaust defines the sound – and the look – of your M5. Choosing the right exhaust system can be hard, as unlike other performance parts, exhaust is subjective and the best one varies depending on one's personal taste. One of the best options on the market is the AWE Tuning Touring Edition Exhaust for F10 BMW M5. This system offers a great look, refined sound and minimal drone for a system that you'll love living with day to day.
If you want a more "german" sound, check out the Remus Race Exhaust for the F10 BMW M5. Remus Exhaust is an OEM manufacturer of exhaust parts for BMW and Audi anyways, so if you want a like factory fit and an outstanding sound, this is one you might want to consider.
Featuring quad slash cut, carbon fiber trimmed tips, this exhaust system adds an aggressive look to any M5.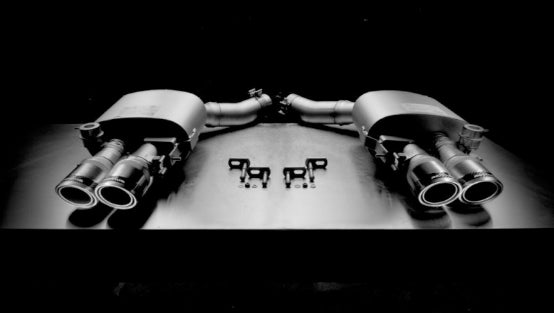 These Remus Exhausts for F10 BMW M5 feature quad 84mm Carbon Fiber trimmed tips to create a bespoke, elegant look with a sound that you're likely to fall in love with.
#4 BREAK NECKS WITH EXTERIOR MODS
Have we mentioned that regular 5-series buy M5 bumpers all the time? Why look like them with a stock front bumper? Installing a few cosmetic accessories can really make all the difference in the aesthetics of your 5. Here are a few great cosmetic upgrades for the F10 BMW M5.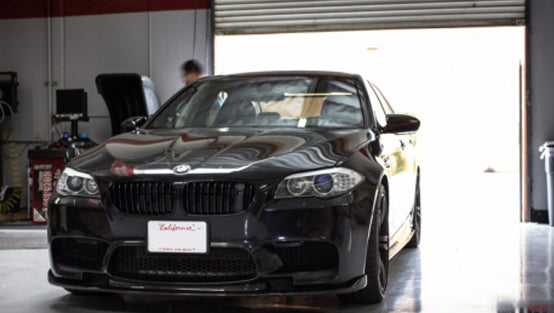 The V1 Carbon Fiber Front Lip for F10 BMW M5 is a handsome option, giving the front end a lower look and effectively channels the ducts along the underside of the bumper. Winglets at each end of the splitter not only add style, but also make the plane of the splitter more effective aerodynamically. The OEM BMW Performance Gloss Black Kidney Grilles for F10 M5 also help clean up the front end.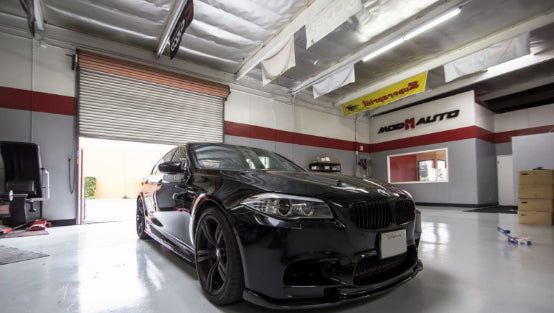 Running along the side skirt is a set of Carbon Fiber Side Skirt Extensions for F10 BMW M5, and from this angle we can also see the Painted Front Reflectors for F10 BMW M5, which really give the car a much sharper look than leaving those nasty amber reflectors visible
At the rear, an RKP Carbon Fiber Rear Diffuser for F10 BMW M5 completes the look created by the front lip and side skirt extensions.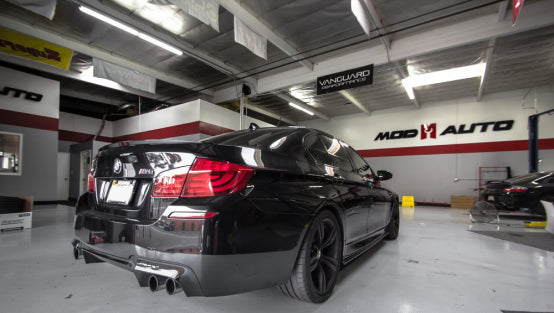 It's worth noting you can also paint the V1 Carbon Fiber Front Lip for F10 BMW M5 like this M5 here to create a more unique look.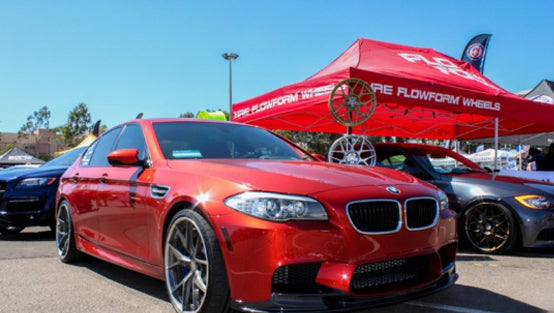 This F10 BMW M5 is fitted with a V2 Carbon Fiber Front Lip for BMW M5 – on this car note the chrome kidney grilles and fender vents – we install so many black kidney grilles, it's rare to see a car still wearing its original chrome.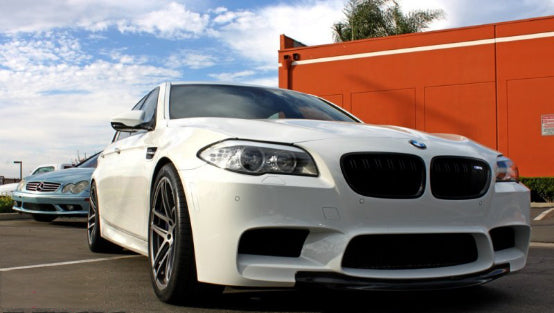 For a simpler look that will still let you happily clear the parking bumps, this RKP Carbon Fiber Front Lip for F10 BMW M5 closes the ducts in the lower surfaces of the bumper for a more finished, complete look to the M5 front bumper.er.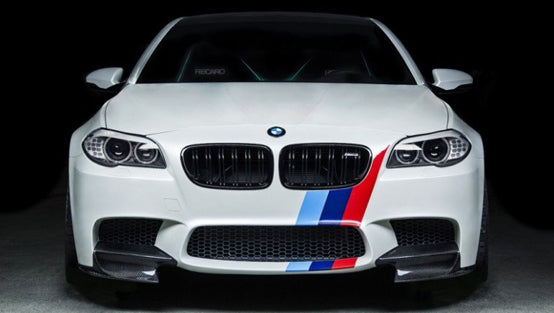 Want more of a CSL look? Check out this 2-piece set of RKP Carbon Fiber Front Splitters for BMW F10 M5.
Of course, the rear diffuser is nearly as important as the front lip, as it defines the rear end character of the car.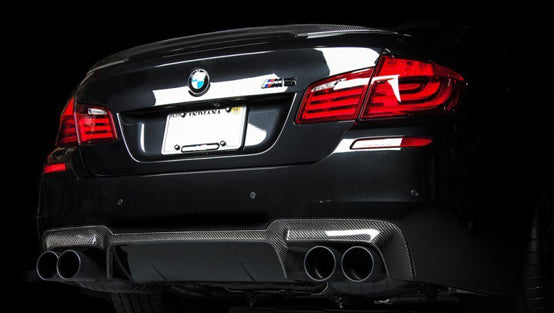 This RKP Carbon Fiber Diffuser for F10 BMW M5 makes any exhaust look better and adds some serious aggression to any car.
But let's say you want a front lip that's going to be durable, because you're realistic and live somewhere like LA filled with hazards threatening to ruin your lip. Well, we've got just the thing for that, too!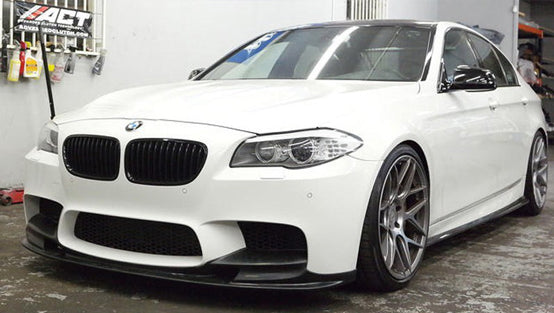 This Urethane Vollkommen Design Front Splitter for F10 BMW M5 is flexible and strong – made from the same type of material as bumper covers, this is the front lip for you if you aren't exactly careful going in or out of driveways.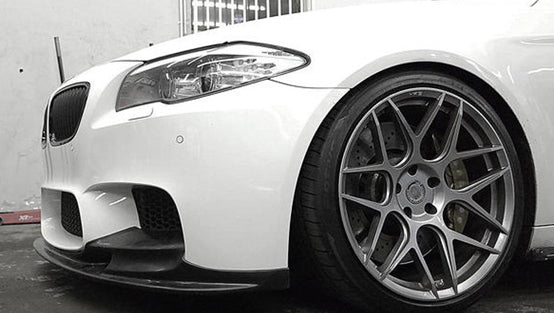 Whatever your style is, you can find the right F10 BMW M5 Exterior Mods to suit your tastes at Kipalm.